| | | | | |
| --- | --- | --- | --- | --- |
| [ | mood | | | drained | ] |
Well, it's been a little while since I've updated. The last few weeks have been extremely stressful. Between midterms, term papers, & a thousand other little things I have been quite frazzled. & although those are over I am already having normal tests again - a little overwhelming. However, there is some kind of rush I get out of being stressed - something about how accomplishing it all is much more rewarding after you've gotten through it.

I also finally got a job! I did a little networking with an acquaintance & snagged an interview at the City of Pembroke Pines Charter School - Central (elem. & middle). I am now employed in their aftercare program as a 6th grade counselor. It's Monday through Friday, 3-6 p.m; No nights, weekends, or holidays - which is PRETTY SWEET. It is the perfect hours for me. This job had my name written all over it. It's low stress & at the perfect time of day (when I'm always napping or doing NOTHING). After running around to get drug tested & fingerprinted since it's for the school board & the city, starting my first day last week was such a relief. I can't wait to start getting paid regularly again. Did I mention it pays $8.90 an hour?

In other news, I absolutely love having a boyfriend. I've never had a relationship this mature in my life. Steven is really great. All my friends love him, my mom loves him, & I love his family. We have so much fun together & it is just very genuine. He makes me so happy, everyday. :)

Still awaiting replies from UF, FSU, & UCF...BCC fucked up & 2/3 just received my transcripts last week. I applied for Summer 2009 for FSU & UCF, but Fall 2009 for UF because you have to have 60 credits to be accepted. It's been really complicated. I continue to stand by my opinion that going to community college is crap. I am so sick of the whole world saying how it's so much better & so much easier. When in reality it's ridiculously confusing & hard. It is much simpler & easier to apply in high school & go straight to college & stay at ONE school for four years. The thing I hate most is honestly, I can only name ONE person I know who actually went to BCC for 2 years, got her A.A. & successfully transferred to UCF - Liz Crespo. EVERYONE else either went straight there after high school or they continue to dick around at BCC. I don't know ANYONE trying to do the same thing as me right now. Not even Danielle. & I don't mean FIU or FAU either, sorry. So it makes it really hard when I don't have any personal motivation from my peers or anyone to ask for advice or help. I know I bitch about this a lot but it's just my biggest priority right now. It is my #1 goal.

Today, I voted for the first time in my life. After all this waiting & anticipation, choosing Barack Obama & Joe Biden felt great. Waiting in line for 2 1/2 hours was not fun but well worth it. I am dying for this election to be over already so everyone will SHUT UP. I would just like to say a few things. I, Gina Filipelli, have HUNDREDS of intelligent reasons why I believe Barack Obama should be President. Please ask, I am willing to give numerous examples. NOT why he is better than McCain or why McCain sucks. It is more important to strongly support your candidate than bash the other. The last thing I want to say is, for all the McCain/Palin supporters - I would respect you more if I actually heard you say more intelligent reasons why you SUPPORT your candidates - NOT ignorant reasons why you think Obama sucks. I never hear anyone say good things about McCain or Palin except he's a veteran & she is pretty. Bullshit. Say something with dignity or don't say anything at all. Thank you.

To wrap this up I would like to say a few words about Natalie Evaro. If you know of her you probably know that she died last week. She was in a horrific car accident & died two days later. She was 20 years old. This news saddened me tremendously. It absolutely breaks my heart. I was not a good friend of hers but have been an acquaintance for about four or five years now. We were in drama club at EHS years ago & have many mutual friends. Every so often we left each other a comment on myspace ,facebook, etc. after she moved to TN & I moved to AZ. Regardless, I have always admired her. She was such a wonderful girl. Smart, pretty, funny, outgoing, unique, & she had a beautiful soul. So really, I was very sad for all of her loved ones because I can only imagine how broken they must be. It is just extremely sad. The only positive thing I can possibly think to say is that I hope she's with Greg now. I believe they are together again in heaven. Everyone please - drive safe & ALWAYS wear your seatbelt. I can't watch anymore of my peers die in car accidents, it's truly ashame.
RIP<3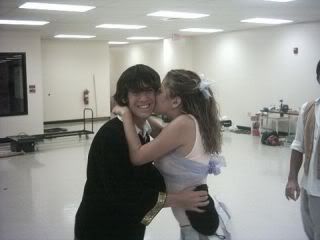 Nat & Greg - A Midsummer Night's Dream - 2004